Tiffany Studios - Featured Artist
By Tiffany Studios Techniques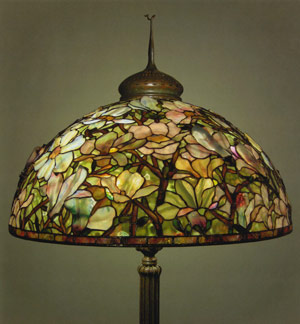 Scott Riggs has a passion for Louis Comfort Tiffany's lampshades and beautiful glass. He has created an impressively beautiful body of work in his California studio using the finest sheet glass made in the past several decades. A lifelong interest in art and a friend's introduction to the art of stained glass sparked his involvement. Scott Riggs, Magnolia lampshade, "This is a 28" magnolia on a Senior Floor Base. Many sheets of drapery glass were hand sawed to complete this labor intensive shade. There is lots of ripple glass and texture throughout this wonderful piece. The background is a rich Oceana light green with hints of cranberry. There is lots of color bleeding in the background also. The buds have green and brown in every piece with little screamers in some. This photo shows some light on the outside as well as some light on the inside." Photograph courtesy of Scott Riggs Tiffanys.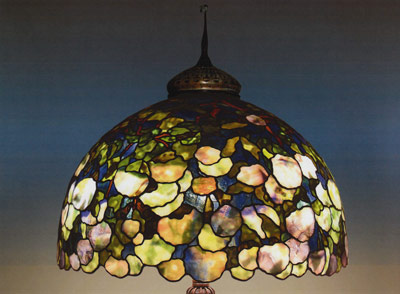 Scott Riggs explains: "I was always interested in art as a kid and loved to draw and paint. I had a friend a long time ago that knew I could draw and he asked me to draw him a sailboat in a way that he could cut it out in stained glass. I did this for him and I in turn asked him if I could watch him cut the glass. As he threw the scrap glass on the floor I started gathering it up and asked if I could have it. He said sure, then I started arranging it into a collage of abstract glass and I started asking questions about assembly and purchasing tools and materials. The next thing you know I am buying glass wholesale from catalogs. That was tough until I found Hollander glass in Stanton, California. I got good enough with practice making little windows which grew into making bigger windows and then I started getting commissions for jobs. It was difficult doing the installations but I kept at it. Finally I made a lamp shade for myself then people started asking for these and I thought I could market shades easier than big windows. I became obsessed with Louis Comfort and the rest is history. In my opinion none of the other makers of shades could touch the Tiffany Studios designs. I guess we need to give a lot of credit to Clara Driscoll on those designs and patterns."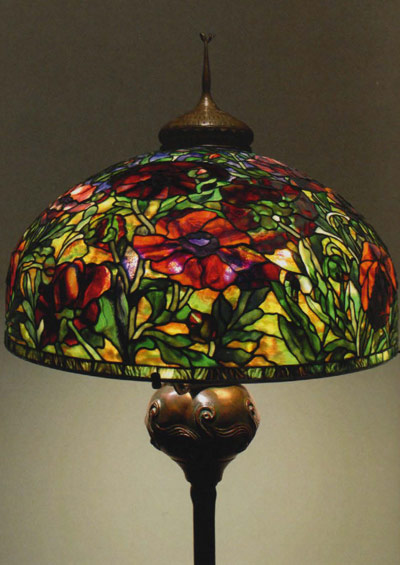 Scott Riggs, Hydrangea lampshade, "The hydrangea is a 25" diameter shade and was made from confetti glass that I collected for 3 years.

Both the background and all the flowers are cut from different confetti glass so it is also very interesting on the inside of the shade. Many different kinds of mottled greens were used in the leaves."

Oriental Poppy lampshade, "this is a 26" Oriental Poppy on an Oil font floor base. This shade had a variation of many types of glass for the flowers and leaves. The background was done in old Oceana glass. Pigtail was from Odyssey." Photographs courtesy of Scott Riggs Tiffanys.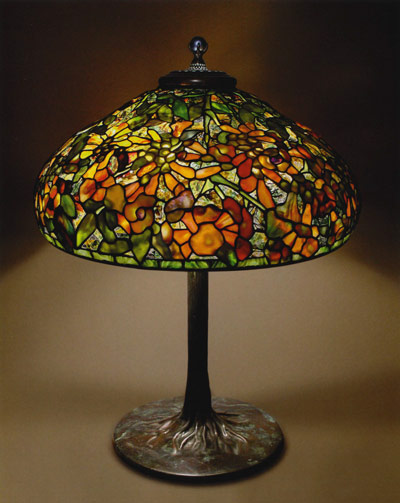 Scott Riggs, Trumpet Vine lampshade, "Trumpet Vine: This is a 22" Trumpet vine tucked shade with 987 pieces.

Beautiful oranges mixed with a new Uroboros fall confetti glass make up this shade.

Layers of orange and green mixes are used in the leaves.

The base is a Tree Trunk base with a custom teardrop cap with Favrile glass ball."

Photograph courtesy of Scott Riggs Tiffanys.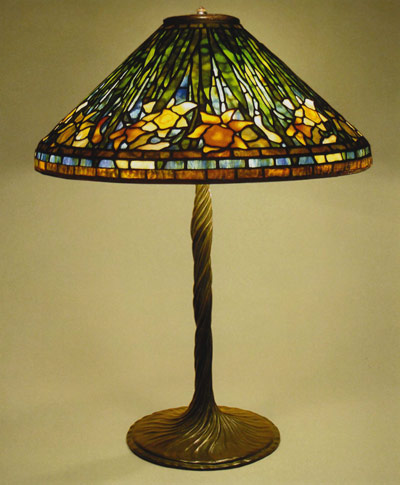 Scott Riggs, Daffodil lampshade, "This is a 20" Daffodil cone. The background has great detail with the major part of glass a nice blue but with the tips bleeding into gold to match the flowers. Rich golds and shadowing make up the flowers. The base is the Twisted Vine base." Photograph courtesy of Scott Riggs Tiffanys.

When asked what captivates Riggs with this technique, his response was:

"I think glass is just magical and so very temporary. It can shatter to bits in a second and people forget about this. When light goes through it, something completely different happens. I have always been an antique lover and I just appreciate the look of glass and wood and stone and bronze. Also I think people take for granted how hard it is to create a painting of sorts, only to do it with glass. I am captivated by the detail and time it takes to recreate wonderful tiffany designs from long ago. It fills my time and gives me a purpose. I love the feedback from my clients and save their emails; they really do enjoy these shades and I think it is a calming effect on people from the busy, crazy lives everybody has today. I still love to stare at shades I made 20 years ago. I still get mesmerized with sheets of glass or certain areas in a shade where I have a mix of colors. I guess it is just what I do and what I enjoy. There is nothing like the feeling of first releasing a shade from a mold and lighting it up for the very first time, even if it is still greasy and waxy. I am usually all alone and study it for about half an hour, then I pat myself on the back, and get ready to start soldering the inside of the shade, usually the next day. I seem to always release shades lace at night because I just cannot stop when I get close. Those are some of the things that captivate me. Another is looking at 100s of sheets of glass on a light table and picking just the right sheets that I love. I spend countless hours just selecting glass and it is not uncommon for me to take over a light box at the glass factory for the whole day."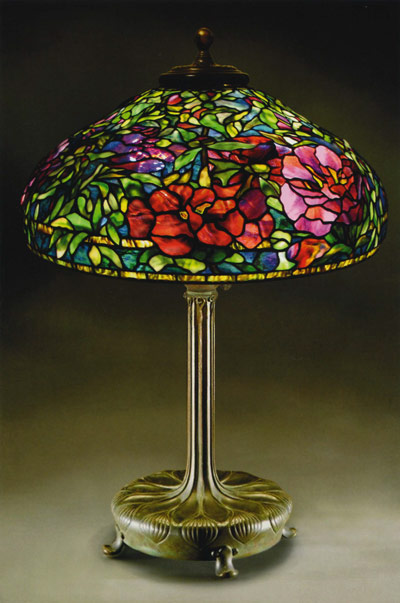 Scott Riggs, Elaborate Peony lampshade, "This is a 22" Elaborate Peony shade with 1038 pieces of glass.

Careful detail went into selecting an array of different glass for all the flowers and buds.

The background is a mix of green and blue confetti glass.

The leaves are Youghiogheny glass with lots of shadowing.

There is Uroboros ripple border rows and the shade sits on a large library base."

Photograph courtesy of Scott Riggs Tiffanys.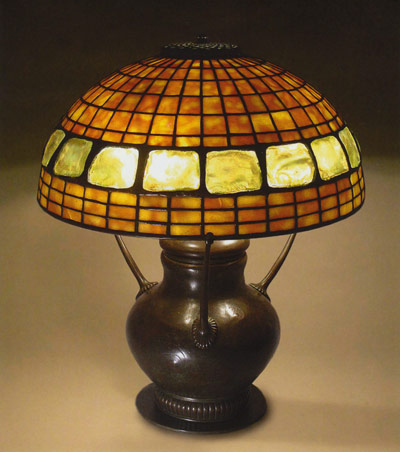 Riggs was asked about discoveries made or unique methods he has created through his years of making lampshades: "I think I make little discoveries and learn new tricks all the time. I am pretty set as to methods of operation and certain little tools and ways of doing all of the processes in making these shades but there are sometimes changes along the way. I think my biggest discovery as far as a tool to help me in my endeavor is a tool for soldering these shades. A friend and I improvised a pull cart used for carrying golf bags into a lampshade or lamp mold holder. It is the mechanism for adjusting the arm that is invaluable. By turning it each notch I can control the angle at which to solder the shade, plus I can spin it either way also. This tool has saved me thousands of hours of soldering instead of constantly propping and moving a shade around, plus this is safer and no pieces of glass are broken. You see photographs of the old artists always holding the shades during their work on them and I do not have to do this. As far as cutting glass, it is pretty much the same as 100 years ago. You score the glass with a glass cutter and break by hand with pliers. Of course we have glass grinders today to get the edges smooch, and we have nice glass band saws for cutting drapery glass or a special inside curve of glass that just cannot be broken away with pliers. These are wonderful modern tools that I do use today at times. Also our soldering irons are much better today and I basically do about 98% of all my soldering with one simple soldering iron. I also have to give credit to Paul Crist (plus all the people from Odyssey at Paul Crist Studios -they know who they are) for all he has done to further the lamp making industry today."
Scott Riggs, Gold Turtleback lampshade, "Beautiful gold mottled glass is used for the grid work of the shade with some rare gold turtlebacks for this 16" diameter shade. Base is complete custom with rich patina." Photograph courtesy of Scott Riggs Tiffanys.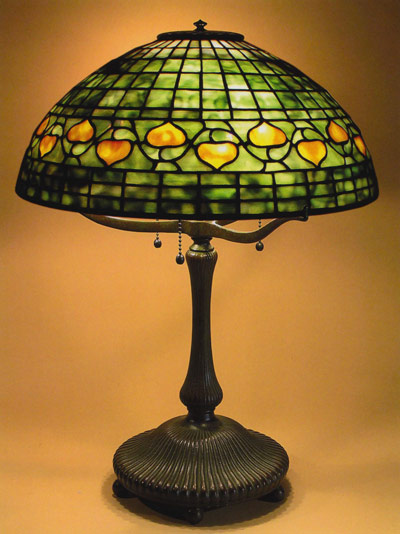 "Was I familiar with or influenced by Tiffany's techniques:' I would have to say YES, Absolutely, I was influenced by Tiffany's techniques. He had a knack for doing everything correctly and sparing no expense. He wanted the finest bases and the finest glass and he went out and found the finest artisans to help him in his quest. He did not mess around or cut corners. He was a true artist. I feel the same way and try to find some balance in making the finest shade I can with the best and most interesting glass I can get, yet still find a way to make a profit while giving my clients something that will be a true heirloom to be passed on. I would also have to say that the techniques for making these shades are basically the same as 100 years ago in my opinion. You must start with good quality glass and know how to cut it. It must be fit correctly on a mold. Each piece must still be wrapped in copper foil for the solder to have something to adhere to. Then you must solder it all together neatly and smoothly on both sides. The shade must be reinforced with wire to make it strong, the correct hardware must be used and lastly the shade must be placed with a coat of copper so that the correct 'Tiffany Green/Brown' patina may be applied to make the shade look old and authentic. Then when you create a marriage to the right base with your finished shade you have a created a treasure."
Scott Riggs, Acorn lampshade, "This is a 16" shade with a nice transition from whitish glass at the top fading into a green glass towards the bottom. The base is a ribbed base with arms that the shade sits on." Photograph courtesy of Scott Riggs Tiffanys.